Γερμανικά Τίτλος: Bruno bei den Wölfen
Ρωσική τίτλος: Тайки
Πρωτότυπος τίτλος: Taiki

Παραλλαγές εναλλακτικών τίτλων:
Taiki, Een Japanse Wolf
Kinderabenteuer – Niederlande
Έτος παραγωγής: 2018
Διάρκεια: 86 λεπτά

Σκηνοθεσία: Mirjam de With
Σεναριογράφος: Katrin van der Meer
Κάμερα: Goert Giltay
Μουσική: Helge Slikker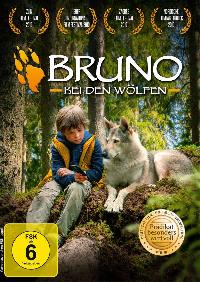 Υπόθεση:
Bruno (9) is so annoying during a car trip that he is left behind by his parents. When they return for him a few moments later, he decides to teach them a lesson.

Chiel and Linda travel to Sweden with their kids for a vacation. They want to go back to nature for a digital detox, especially for their son Bruno (9) who just wanted to stay at home to play games with his digital friend Taiki. On the way, tensions flare and Bruno is left by the roadside for punishment. When Chiel and Linda return to pick him up, however, the boy has disappeared into the Swedish forest where he finally learns that the real world is much more exciting than the world of computers...

Bruno is nine and an inveterate video gamer, with a favourite avatar called Taiki who he guides through virtual world. Among other reasons, to try to break Bruno's Internet addiction, his parents plan a family vacation with Bruno and his younger sister to far-off Sweden. But during the long drive, the siblings start to fight and the classic parental threat to leave Bruno by the side of the country road suddenly becomes a reality for the boy. The parents must rely on friendly Swedes to try to stem the consequences of their negligence. Meanwhile Bruno wanders through the forest, where he is befriended by a wolfhound who becomes his guide to the IRL wilderness...
»Taiki« is the entertaining story of how a young boy is personally tested in the analogue world. The fact that his parents are forced to learn a thing or two as well makes this a fun film for the whole family.

Dieser Film wurde von

Franz-Josef

in die Filmliste eingetragen!
Es sind keine alten Sendetermine vorhanden!