Ich war noch niemals in New York
Оригинальное название: Ich war noch niemals in New York

Musical – Германия
Производственный год: 2018
Продолжительность фильма: 128 минут

Режиссура: Philipp Stölzl
Сценарист: Alexander Dydyna, Philipp Stölzl, Jan Berger, Karsten Dusse, Gabriel Barylli, Christian Struppeck, Udo Jürgens
Оператор: Thomas W. Kiennast
Композитор: Christoph Israel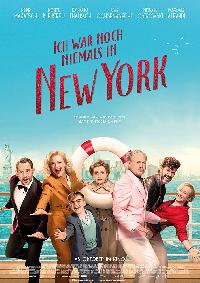 Краткое содержание:
For television presenter Lisa Wartberg her job is the most important thing in life. That changes, however, when her mother Maria loses her memory after an accident and suddenly knows only one thing: she has never been to New York. The feisty lady escapes from the hospital and smuggles herself as a stowaway on board a cruise ship to finally experience the city, which never sleeps, up close. Her daughter has no choice but to go with her make-up artist Fred on the search for her mother – and will actually find it. The only problem with the whole thing: The ship leaves before Lisa and her partner Maria get off board. It begins a chaotic journey across the Atlantic, where Lisa not only Axel and his son Florian get to know, her mother makes an exciting acquaintance.
Marlon Schramm
(Florian Staudach)
День рождения: 27.02.2006

Возраст актёра:
около 12 лет
Дополнительную информацию
Dieser Film wurde von

Heiner

in die Filmliste eingetragen!